WESTERNS is the only Western Film Database on Internet

you can download it to your iPhone or iPod Touch, and use it offline.
All the informations and reviews about the old western movie, the classic western, the B western movie, the western movie actor for the Amateur.

The WESTERN movie database on your iPhone or iPod Touch

Photos slideshow
(flash format, flashplayer version 9 and + required, + a bit of patience...)
Installation and working with WESTERNS on an iPhone and iPod touch or another type of PDA :
Any PDA which has a contact application, or even more so a database application should handle WESTERNS without any problem, especially if it can import .TXT files.
Here is a vue of the Western movie database handled by an iPhone or iPad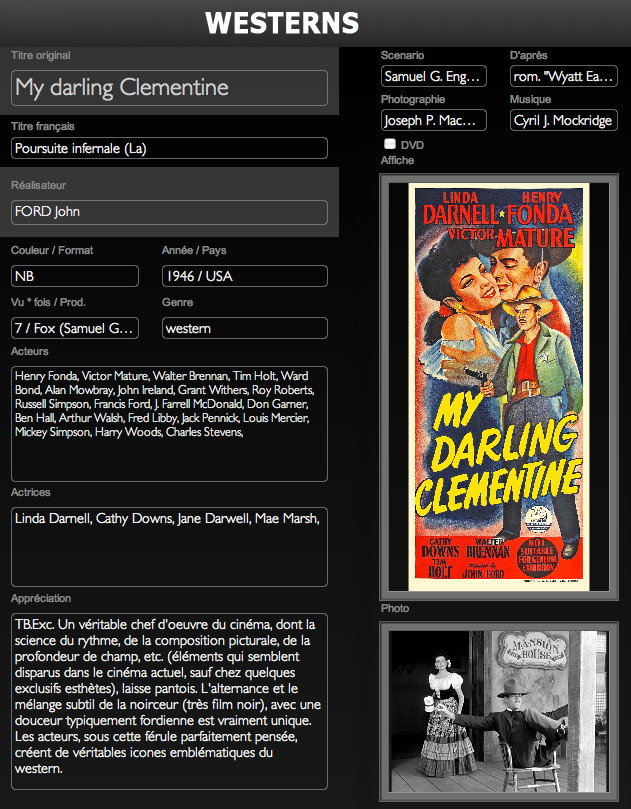 Westerns includes Classic westerns, B Westerns, spaghetti Westerns, best Westerns and old Westerns
Not so long ago, when those Apple products did not exist, we had a great PDA made by

. It was perfectly suited to handle a database such as WESTERNS.

James Stewart and Donald Crisp in "The man from Laramie", a film by Anthony Mann
A few major Westerns heroines