Gary Cooper and Walter Brennan in "The Virginian"
WESTERNS is The Film Database for the Western fan,
it's the only one...
Introduction
WESTERNS presents some 1200 films of THE "Genre" : A and B films, some serials, productions from the USA mainly, but also from Canada, England, Australia, France, Italy and Spain.
All the files of this database can be sorted by numeric or alphabetic order (director's names, actors names and so on).
It can be used on any type of computer (Mac and PC), or on a palmtop (Psion 3, 5, 7 or Revo, and I guess Palms, etc.), as long as you have a datasheet (Excel for instance) or a database program (FileMaker, Access, etc.).
The version distributed here is not a trial version, but a subset of the complete database. In fact it is the first third of the files, including the Directors from A (ALDRICH Robert) to F (FURIE Sidney J.) only. Those interested in the complete version, from A to Z, should read the "Diffusion" page.
Presentation
As such, this database is obviously not complete, that is it doesn't cover the few thousands westerns which have been produced by the cinema only. It is exclusively made of the westerns I have seen... a good number I must admit, and certainly the most interesting part of the genre.
It corresponds to the great pleasure I had all these years watching what is for me the THE major genre of cinema, the one that can assemble and welcome in its bosom all the themes and all others genres.
WESTERNS is in fact a subset of a hugger database (more than 8800 films), called CINEFAN, which covers all types of movies from the silent screen till now.
Neither WESTERNS nor CINEPHIL are completely free, they both are sharewares, but if you buy CINEFAN you get WESTERNS for free, for it is included in it.
WESTERNS costs 10 €,
CINEFAN costs 15 €.
Make your choice !
WESTERNS does contain a number of errors (typing, spelling and probably incorrect names), but I try to improve it through my re-visions or my discoveries, though these are so scarce now... the Western doesn't seem to be a praised genre anymore !
There remains the problem of my personal findings (for those who are interested in translating them from the French original, of course...) ; now it's up to everyone of you to use it in such a way you choose or need.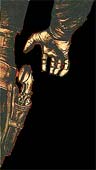 History and statistics
This database was started in the years 1967-68, on the seats of the French Cinémathèque. So many marvelous discoveries then ! Chatting with Langlois in a corner of the bar, listening one evening to Raoul Walsh relating his escapades with Flynn or Gable around Hollywood, discussing endlessly with some "co-religionists". Those were the days for the "cinéphile"...
Then the glow of Western seemed to fade, and came the time for computers, which allowed me at last to compile all my documentation and memorize it in a single database.
As it is, this database consists of some 1200 westerns, starting with "The great train robbery".
As said above, they are all part of the CINEFAN database, which contains some:
- 3698 US films,
- 1798 French films,
- 444 British films,
- 419 Italian films,
- 55 Japanese films,
- etc., from the silent era up till now.

"Man of the West"
by Anthony Mann
Once you have downloaded the demo database, please refer to the next pages :
advice for installing Westerns on a Mac, a PC, a laptop, PDA or Psion.


"Gunfight in OK Corral"
Installation and working with WESTERNS, on a Mac, a PC or a S5 Psion.
You should have found the base in a zip-compressed format, and if you are reading this text, you must have already expanded it ! The database is delivered in .TXT, the required format.
- The .TXT format is an easily importable one, while precising 'Tabulation" in the option menu.
This format can easily be imported in a newly created sheet in any basic Datasheet program (Excel for instance) or in a new file created with a Database program (FileMaker, Access, etc.).

- I propose with my database a specific FileMaker Template (layout) ; you just have to open this template from the FileMaker program (providing you have it, of course !), and import the database within this file, still precising the "Tabulation" format. Those who don't have the FileMaker program can download here an old version of FileMaker, which will treat WESTERN quite fairly, with a limitation to 50 files I think, for this trial version.
- The present version of FileMaker is V.7 (for Mac OSX , and Windows 2000, XP or 7) ; you can visit the FileMaker site and download there a trial version for Mac or PC, which is limited only in time.
- When you have the software installed, "open" my FileMakerTemplate (expanded of course with the appropriate utility). Then "Import" my WESTERN.TXT (also expanded), specifying Tab format. Here you are... enjoy, and adapt it to your needs and tastes.
- If you already have the FileMaker software, you can download the demo version of WESTERNS directly in the FileMaker (V.5) format.

Here is what you should get on your PC after installing WESTERNS :

For those who can't use my FileMaker (V.3) template or the FileMaker demo, or who would like to make up your own template for the use of the database, here is a list of fields to be created in any database software, before importing the WESTERNS files :

- Original Title :
- French Title :
- Director :
- Color / Format :
- Year / Country :
- Seen * times / Producer :
- Actors :
- Actresses :
- Notes :
- Scenario :
- Based on :
- Cinematographer :
- Musical score :
If you have bought the complete file (10 € only !), please keep separetely the original WESTERNS file in .TXT format, in case you have made a mistake during import and want to start again from scratch.
"Pistolero of Red River"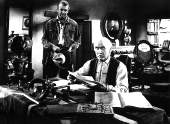 James Stewart and Donald Crisp : "The man from Laramie"

WESTERNS on your PDA or PSION


Installation and working with WESTERNS on a PSION Serie 3 :


The Psion is a Palmtop Computer, made up by

. The Serie 3mx presented here isn't made anymore, but can easily be found as second hand. It is as many other PDAs, perfectly suited to handle a database such as WESTERNS.
Now, you should have found the base in a zip-compressed format, and if you are reading this text, you must have already expanded it !
You just have to put the "base" WESTERNS into the DAT directory of your Psion S3 (a, c or mx), or in its SSD Flash (if necessary, create there a DAT directory).

* Serie 3a owners might be handicapped by the original Data application, which is much too limited. They might find an interest in installing software like Dataview Pro and/or JBData into their APP directory (either in the Psion itself or in one of its SSDFlash), in order to open the base from one of those applications.
Each option will have a specific and complementary efficiency on this base :

- Dataview Pro (discontinued commercial software from Purple Software) offers a good list presentation, secondary groups and a good sorting.

- JBData has the huge advantage of being freeware (a very big and respectful "Thank you" to John Boyce, its prolific and dedicated creator). It allows an interesting "Save as" function on a Text format, plus good "Replace" and "Merge" functions.

* Serie 3c and 3mx owners will not have this problem for they have an improved database application included.

* Serie 3mx owners will enjoy the new processor enhancements for search and sorting functions.

* All S3 owners however, will have to use JBData to ensure a complete exportation in .TXT of each file, in order not to lose any information (because some of my files use more signs than authorized by the original application).
Now, about this translation to a Text format, in order to use my base on a larger computer (Psion S5, Mac or PC) through such softwares as Access, FileMaker or 4D. You can use the freeware utilities kindly provided by Andrew Brook, or use the JBData "save as" function :

Open WESTERNS with JBData application and "save as".
Give a name.txt
Leave "Text", put "Tab" on the next field, insert or not your labels with "Labels : first record", and if you have used "Psion-Enter" to make new paragraphs within fields, put "Leave" on the bottom line. Validate . Here you are with your database in a .TXT format, ready to be used on your Mac or PC.
You should also refer to the excellent JBData manual.
Here are some


Installation and working with WESTERNS on a PSION Serie 5 :

You must download the database under its .TXT form.
Then refer to the manual (as I don't have a S5, I don't know the right way to do it, but I do know it's all very simple !). S5 owners might use the Power Base program (discontinued, from Purple Software), which should provide more flexible management of the base.
Installation and working with WESTERNS on another type of PDA :
Any PDA which has a contact application, or even more so a database application should handle WESTERNS without any problem, especially if it can import .TXT files.
Any information from users would be welcomed...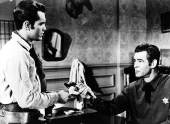 Robert Ryan and Jeffrey Hunter in "The proud ones"

Diffusion and Rights

The integral WESTERNS or CINEFAN database may not be distributed freely or used for commercial purposes, for their rights are reserved. Buying it at the conditions here mentioned is only valid for individual, personal, non-transferable and non-commercial use.

Any company, organism, etc. willing to buy WESTERNS or CINEFAN for commercial or promotional use, etc., should ask the author for a specific license contract.

On the other hand, the first part of the base (Directors from A to F, i. e. the shareware section) may be distributed freely, either through an on-line service, a CD compilation or any other future medium, under the express condition that it is my untouched original version, and this "Read me" text file is kept attached to the base.


Updates to come will be found here as regularly as possible.
| | | |
| --- | --- | --- |
| "The gunfighter" | | |
Registering WESTERNS
The creation of WESTERNS (and CINEFAN) has taken, as one might imagine, a lot of work often enjoyable, sometimes fastidious.
So it is available as a10 € (Euros) shareware,
but remember you can get the whole CINEFAN database, including WESTERNS, for only 15 € (Euros).
Anyone interested in the complete database should send me the money in the form of a check to my name, paid in your own national currency. I will not assume any responsibility if you send cash, because it is theoretically forbidden by French law, it is not always safe and I can't guarantee reception ; however, should you choose this method, please round up the sum to the nearest amount above the price in your currency (in order to send bank notes only), and choose an easily exchangeable currency in Europe e.g. € (Euro), UK pounds, US $, etc.
After receiving your payment, I will give you access to the complete and latest version of my database (in compacted zip form) through download or E-mail (don't forget to give me the right address when you pass the order). I can also send you the database on a floppy, if you provide the floppy itself and your address.
You will also have to specify if you want it in .TXT format (for Macs or PCs), .DBF (for Psion), or even in FileMaker format with, as a free bonus, a special layout.
I will only be able to provide .DBF or .TXT versions to S5 owners, because I don't have yet PsiWin to convert my base to the correct S5 format.

"Lone ranger"

Political platform
or pure fiction?
"Red river" on a French magazine from the 60's.

Links and Documentation
° Sites dedicated to the WESTERN films :
In French :
° PhareOuest : an interesting and personal site which evoques the early French Westerns ( (1907-1914)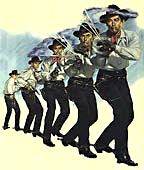 ° Books dedicated to the WESTERN films :
In English :
Star and producer in "Alamo"
° Sites dedicated to the CINEMA:
- first thing first,


http://cinephil.cinefan.free.fr/

the movie database for the moviebuff : more than 6500 films you can sort and use offline on YOUR computer...

- Internet Movie Database: the famous IMDB, at least 140 000 films ; but you can't download the database nor use it and adapt it to your taste as you can with... "WESTERNS" or "CINEFAN"!!!
- All Movie Guide: about as many films as in IMDB, but you can't downlaod the database and adapt it to your taste, make it yours, on your own PC, like with... but I seem to repeat myself !!!
- American Movie Classic
- The Movie sound page
- The Movies on line, interesting ressources for the amateur.

° Film encyclopedias on CD :
- Hallywell Film Guide, which works also on a Psion S5 (exists under book format also),
- All Movie Guide, Corel,
- Cinemania, Microsoft.
Finally, in order to change completely the atmosphere,
let's give a little push to the site I dedicated to my
touristical guidebooks to Greece (in French) :
http://grece.greece.free.fr/

and to the site my friend Étienne Barthomeuf dedicated to... some of his other friends :
http://www.pinkpigpage.com/
Contacts
Warning : this site is a private one.
Photographs presented here come from my personal collection, or from uncontrolled sources.
If some of them are used in an inappropriate manner, please tell me so that I can take the appropriate mesures.